by Alissa Oliverson (SWAC Chair) January 2021
Putting the wrong items in your recycle bin can cause big problems, and dirty items contaminate the process – both were main reasons that China stopped accepting our recyclables in 2018. Now more than ever we need a viable and streamlined recycling process in the U.S. and you can help by using Waste Management's infographic to help you remember what goes in your recycle bin and what stays out.
It does not feel good to throw away plastic packaging, like sour cream or yogurt tubs and take out containers, but in our current recycling reality it is the right thing to do. Waste Management, the trash and recycling collector for the Klamath Basin accepts only certain items for recycling, based on current global markets. When you place inappropriate matter in your recycle bin, it becomes a sorting hassle that makes the already cumbersome recycling process even worse, it could cause damage to expensive machinery, and it could even jeopardize the lives of workers on the sorting line. So, please use this handy infographic from Waste Management and the following tips to help you remember what goes in your recycle bin and what stays out.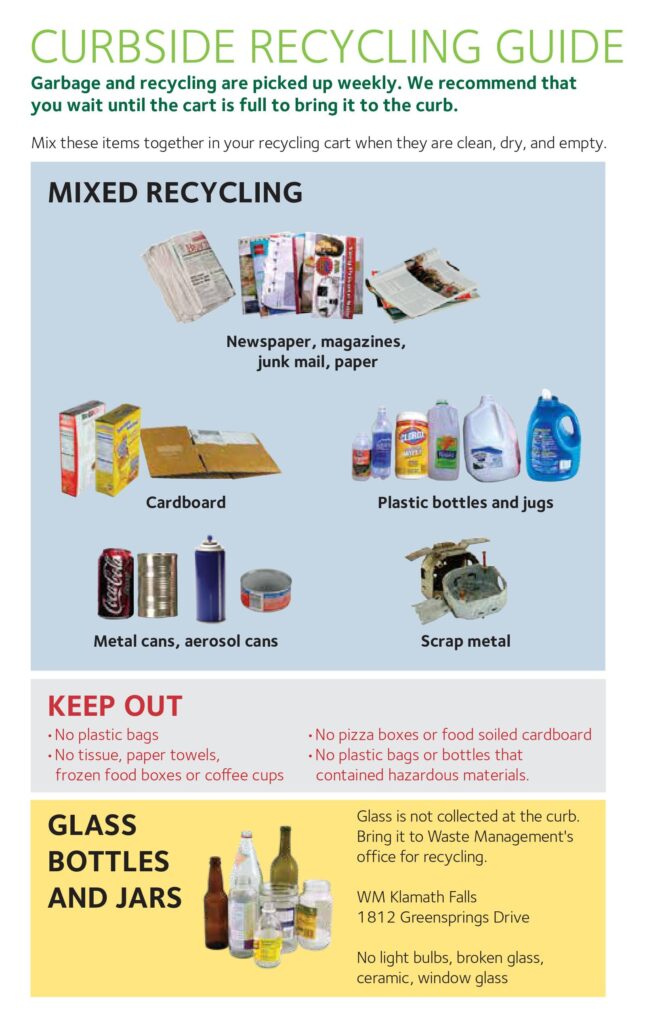 All recyclables should be clean and dry. You do not have to scrub them squeaky clean, but they should be clean enough so that they do not contaminate other recyclables, like paper. If you have an extra moment, remove the label from metal cans. As a general rule, receipts are not recyclable, so throw them in the trash along with caps and lids. Medical waste, like syringes, are not recyclable either. These items must be appropriately and safely handled. When recycling plastics, include only containers that have a mouth smaller than the base. Place clean, dry containers in your recycle bin and do not bag recyclables: leave them loose.
Also, remember that studies show families who employ teamwork to tackle their household recycling are more effective recyclers than families who have only one person assigned to the task. Another good way to increase your recycling rate is to place a recycle bin next to each trash bin in your home – in the office, the bathroom, the game room, the garage, the kitchen – wherever you collect trash, collect recyclables too.
When you have already done your best to reduce and reuse, do your best to recycle right.
You can find a list of alternative drop-off locations for other recyclable materials and more information about supporting sustainability in the Klamath Basin at: www.SustainableKlamath.org.